2/2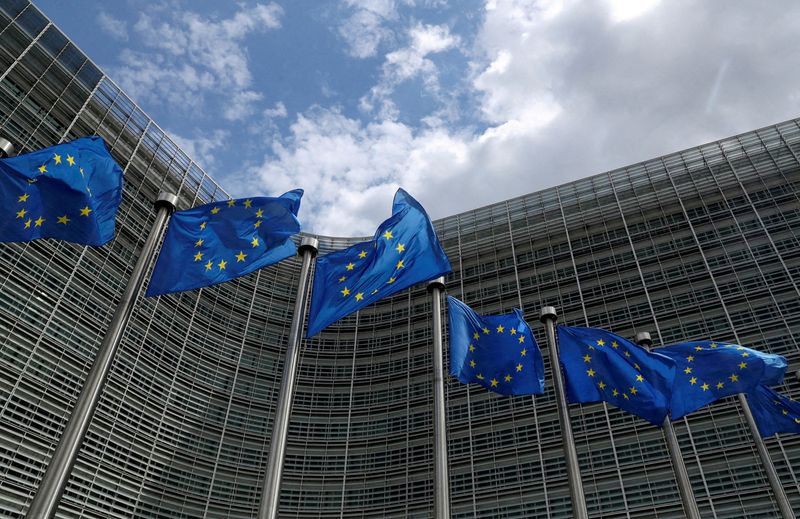 © Reuters. FILE PHOTO: European Union flags flutter outside the European Commission headquarters in Brussels, Belgium, June 5, 2020. REUTERS/Yves Herman/File Photo

By Kate Abnett
BRUSSELS (Reuters) – Increased political resistance to new EU laws to protect the environment has left the European Commission fighting to keep intact its vision for Europe's green transition.
Ahead of elections in the European Parliament in June next year, the European Union is racing to finish legislation that includes two landmark nature bills – binding targets for countries to restore damaged natural habitats and a goal to halve chemical pesticide use by 2030.
Much EU environment legislation has been passed over the last two years, but the appetite on the part of some lawmakers and member states for more is waning and farming groups say further change must be conditional on more financial support.
Brussels proposed the nature measures last June. Opposition has mounted in recent weeks, as EU countries and lawmakers prepare for the final negotiations. The European Parliament's biggest group, the European People's Party, has called for the nature law to be scrapped saying it would hurt farmers.
"It's just too much. People are frustrated with new rules every year," EPP lawmaker Peter Liese said.
The Commission proposal gives countries discretion to decide how and where to reverse biodiversity loss. But that flexibility, Liese said, makes it impossible for farmers to prepare.
"No farmer can predict what's happening on his land, what kind of rules he has to follow, in the next years," Liese said.
Other EU green proposals have also met resistance. And as the elections approach, unfinished laws are piling up. Their fate would be unclear under a new EU Parliament with a different composition.
French President Emmanuel Macron this month suggested a pause on new European environment regulation, to give industries time to absorb recently-agreed laws.
The Commission last week delayed another scheduled package of environmental proposals, plus a bill on microplastic pollution. A Commission spokesperson declined to comment on the reason for the delay.
Meanwhile, EU countries are pushing to weaken proposed pollution curbs for farms and methane emission limits for energy producers. Some capitals want to scrap new car pollution limits, and the EU's renewable energy targets are deadlocked by an argument over whether nuclear energy can be included.
NATURE AND CLIMATE LINK
In the last two years, the Commission, whose make-up will also change following next year's parliamentary elections, has proposed more than 30 laws designed to deliver green goals. The aim is to steer countries towards the EU's target to have zero net greenhouse gas emissions by 2050.
Most have been successfully passed, including tighter CO2 limits for cars, higher CO2 costs for industries and requirements to expand CO2-absorbing forests.
Many of the remaining bills are focused less on planet-warming CO2 emissions than on other environmental calamites – pollution, the collapse of bee and butterfly populations, or Europe's poor soil health.
EU officials say these crises are just as important as climate change, and are inextricably linked.
Restored ecosystems such as forests and peatlands, for instance, absorb more CO2 emissions. Greenhouse gas emissions from agriculture – the sector most affected by the nature laws – have barely fallen since 2005, the European Environment Agency has said.
Scientists have also raised alarm that drastic declines in insect populations have serious implications for other species and food crop yields.
"Without the nature pillar, the climate pillar is also not viable," EU climate policy chief Frans Timmermans told EU lawmakers this week.
Campaigners say losing the bill would also undermine the EU's international standing, after it lobbied for more ambitious global action at last year's U.N. biodiversity COP15 summit.
    Some countries, however, say more environment laws would overburden industries and risk denting political support for green measures.
Belgian Prime Minister Alexander De Croo this week said nature restoration, pesticide control and soil quality needed to be addressed, but he considered they were "lower ranked priorities" than tackling climate change.
"We could lose that momentum that we have built if we overburden ourselves with challenges that are not as life-threatening as climate change," he told the Wirtschaftstag economic conference.
NATURE VERSUS INFRASTRUCTURE
In closed-door negotiations, countries are seeking a long list of changes to the nature restoration law, diplomats said.
Denmark and the Netherlands are among those that want amendments to ensure countries can still quickly build infrastructure such as wind farms in areas where nature is being restored.
"We cannot do everything everywhere – housing, energy transition, nature restoration, flood protection," Dutch Nature Minister Christianne van der Wal told Reuters.
Farming groups say the EU's increasing environmental demands are not being matched with funding – which they say should be in addition to the EU's existing farming subsidies.
"The missing EU funding for this is a clear problem," said Pekka Pesonen, who heads European farming group Copa-Cogeca.
Even if countries find a compromise, the European Parliament could block the law, if other lawmaker groups side with the EPP. Two EU Parliament committees this week voted to reject it, signalling a tough vote ahead in the full Parliament.
Read More
In recent years, Europe has taken audacious steps towards greener laws and softer regulations, aiming to cut down on emissions and foster a more sustainable environment. Yet, resistance remains in the form of conservative states and politicians stalling the finalisation of the European green law.
The move to incorporate greener policies in the internal European legislative system is known as "Fit for 55" and was introduced back in the fall of 2020. It is an ambitious attempt to cut greenhouse gas emissions of the continent by at least 55% in an effort to meet the commitments of the Paris Agreement and, essentially, to protect the environment for future generations.
However, although the advancement of the green policies bodes well in terms of reaching the necessary threshold, the European Union is also facing significant obstacles from conservative Europeans unwilling to accept the changes their respective countries have to implement to hit the target for emissions reduction.
Poland, for example, has become a symbol for the resistance. It has called for more policy flexibility than the current version of the bill allows for, saying that the proposed rules are too rigid, and too costly, for its own industry. Poland is not the only country pushing back against the new directives. The Czech Republic has also expressed doubt about the ability to meet the strict energy goals. The same goes for Hungary and Bulgaria, which are also part of the European conservative bloc.
To further complicate the situation, governments with less conservative leaning are hesitant to pressure the opposition, fearing a strong backlash during the next European Parliament election in May 2022. This uncertain political landscape makes the implementation of the green regulations even less likely.
In conclusion, while European countries are indeed progressing in their efforts to introduce greener laws, resistance remains, mainly from conservative countries. The current political landscape also does not facilitate a smooth finalisation of the Fit for 55 legislation. Only time will tell if the European Union will be able to tackle this challenge.