Alchemy Pay's ACH price has surged by over 480% from its December lows.

The company integrated Google Pay for its on-ramp service.
Alchemy Pay (ACH/USD) price has continued to defy odds as it becomes one of the top-performing cryptocurrencies. ACH has soared to a high of $0.044, the highest level since April 2022. It has been one of the best tokens, having soared by over ~480% from its lowest level in December.
Alchemy Pay price is soaring mostly because of the bullish momentum and the fact that many traders have embraced fear of missing out (FOMO). This FOMO gained strength after Visa, the biggest financial services company in the world, listed it as a payment provider. 
Visa is not the only company to partner with Alchemy Pay. On Monday, the firm said that it had added Google Pay for on-ramp services. This means that users will be able to buy cryptocurrencies in its platform using Google Pay.
????ANNOUNCEMENT????#AlchemyPay Adds Google Pay for On-Ramp Fiat-Crypto Purchases

Our on-ramp now supports Google Pay to allow users to purchase crypto quickly, easily, and securely using their fiat currency funds.

Read more here????https://t.co/iwQI0hnTjg$ACH #FiatOnRamp pic.twitter.com/qPUzBGiUuy

— Alchemy Pay|$ACH: Fiat-Crypto Payment Gateway (@AlchemyPay) February 20, 2023
At the same time, the strong performance of cryptocurrencies like Bitcoin and Ethereum has led to inflows into the industry. Companies like Coinbase and Binance have recorded billions in inflows this year even as regulatory concerns remain.
Therefore, with the number of crypto holders rising, the consensus is that Alchemy Pay will benefit as these people start or continue paying with them. Also, it will benefit as the volume of its on-ramp services makes a strong comeback.
Alchemy Pay price forecast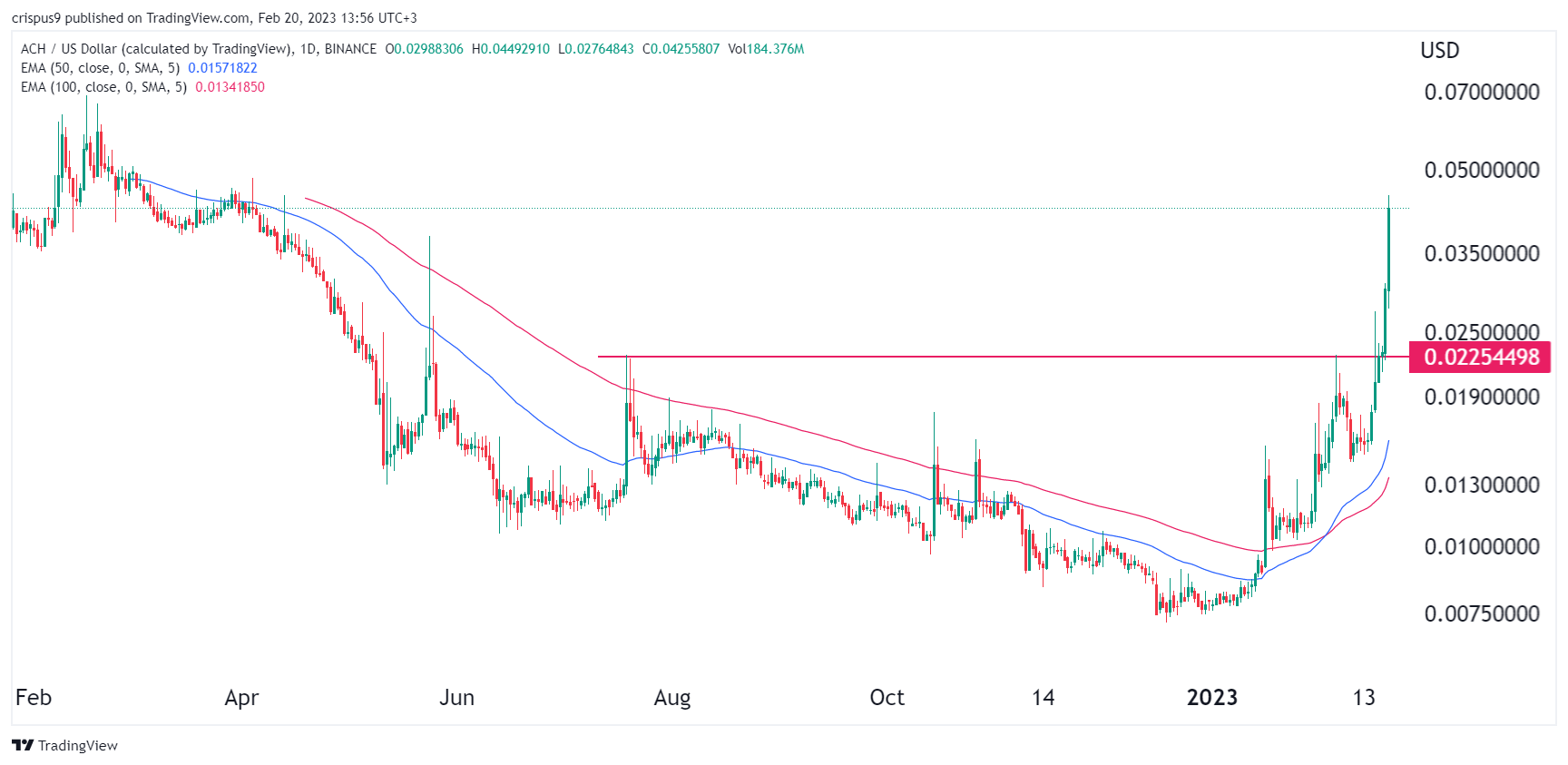 Turning to the daily chart, we see that the ACH price has been in a strong bullish trend since December. It has defied gravity for weeks. As it rose, it managed to move above several resistance levels, with the most recent being the psychological point at $0.30. It also jumped above the resistance point at $0.2254, the highest point on July 19. 
Alchemy Pay has jumped above all moving averages while oscillators like the Relative Strength Index (RSI) have moved to the overbought level. I suspect that the coin will likely pull back and retest the support at $0.2254 as profit-taking sets in. This price is about 44% below the current level. In other words, the risk/reward seems unfavourable.
If this happens, ACH price will likely resume the bullish trend and rise to the key resistance point at $0.50. 
How to buy Alchemy Pay
Binance.US
Binance.US provides secure and reliable access to the world's most popular cryptocurrencies, with some of the lowest fees in the industry.
Uphold
Uphold is a platform which has over 50 cryptocurrencies to choose from.
It's users can make crypto trades with a bank account, credit card or crypto debit card. It has variable fees and allows users to automate trades.
Users who are on Brave's internet browser can also earn BAT tokens based on their browsing habits.
---
Share this article
---
Categories
Read More
The recent emergence of Alchemy Pay (ACH) into the market of fintech has caused a buzz of speculation, as investors try to understand the risk/reward balance of the new technology. Unfortunately, it appears that the risk/reward seems unfavorable for now.
ACH offers the potential to provide low-cost, high-speed payments. This could be an attractive option for consumer payments, particularly in emerging markets. However, ACH processes have higher levels of risk when compared to traditional payment methods such as wire transfers and credit/debit card processing. As it stands, ACH is still relatively new and has yet to be fully tested in the market. Without further testing and development, many investors are reluctant to take on the heightened risk associated with ACH payments.
In addition to security concerns, it's unclear if ACH will be widely adopted. Many consumers and merchants are comfortable with existing payment methods and may be hesitant to switch. This could greatly limit the potential market of users, resulting in even greater risk for investors.
In sum, Alchemy Pay (ACH) is an exciting new technology with the potential to revolutionize digital payments. However, the risk/reward balance of ACH seems unfavorable for now. Investors may want to wait for more testing and development to occur before taking on the risk.