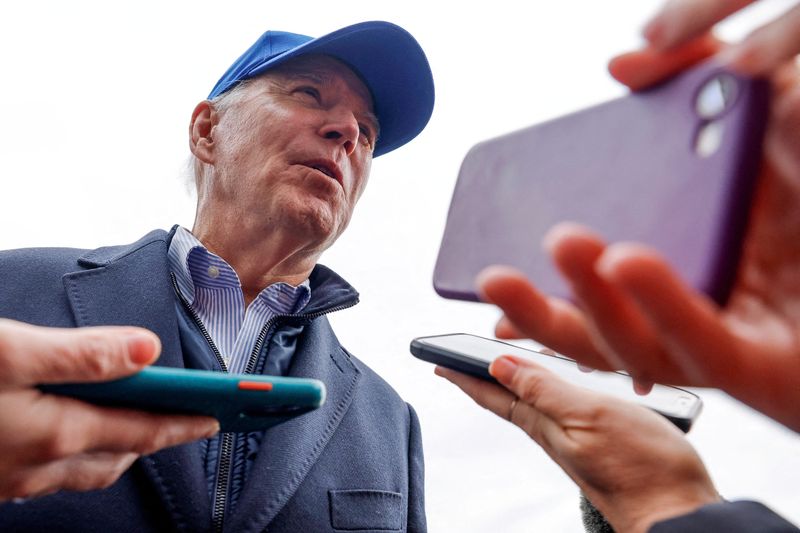 © Reuters. FILE PHOTO: U.S. President Joe Biden speaks with reporters as he returns from a weekend at Camp David to the White House in Washington, U.S. February 6, 2023. REUTERS/Jonathan Ernst

By Jason Lange
WASHINGTON (Reuters) – U.S. President Joe Biden's public approval rating sat at 41% – close to the lowest level of his presidency – as he prepared for a major speech on Tuesday that is expected to serve as a blueprint for a 2024 re-election bid, a new Reuters/Ipsos poll showed.
The three-day national poll, which closed on Sunday, also showed 65% of Americans think the country is on the wrong track – up from 58% a year earlier.
In a presidency buffeted by soaring inflation and a persistent global health crisis, Biden began 2023 buoyed by unexpectedly strong midterm election results for Democrats and signs that consumer price increases were ebbing.
But he has also faced new criticism over a probe into classified documents found in his home in recent months, after he had condemned former President Donald Trump for allegedly mishandling classified documents when he left the White House in 2021.
Biden's 41% job approval is essentially unchanged from the 40% recorded three weeks earlier. The Reuters/Ipsos poll has a margin of error of three percentage points either way.
It is an unpopularity that has proved remarkably persistent, drifting as low as 36% in May and June of 2022 but holding near 40% for most of the last year.
In past decades, presidents only occasionally went through extended periods with approval as low as that of Biden, although Donald Trump spent much of his 2017-2021 presidency with similar levels of approval and at points sank even lower, hitting 33% in December 2017.
Biden, 80, is expected to launch another run for the White House in the coming weeks, and his State of the Union address on Tuesday is likely to highlight massive infrastructure and inflation laws he signed in his first two years in office.
Biden will also call on the U.S. Congress to focus on advancing cancer research, expanding mental health services and beating the "opioid and overdose epidemic," the White House said.
With Republicans in control of the U.S. House of Representatives since last month, Biden is also expected to urge them not to hold up a necessary increase in federal borrowing in the coming months in order to win spending cuts.
Biden and Republicans are at loggerheads over the $31.4 trillion debt limit. Failure to increase it could trigger financial market calamity and a recession.
But the new Reuters/Ipsos poll showed many Americans are uncomfortable with Washington's large debts. Some 55% said they oppose raising the debt ceiling, including 32% of Democrats and 78% of Republicans.
Despite Biden's unpopularity, the poll showed that Americans prefer Democrats over Republicans on a range of issues. On healthcare policy, 37% of respondents said Democrats have a better approach, compared to 18% who picked Republicans. People picked Democrats 42% to 16% on women's rights, and 34% to 23% on gun violence and gun control.
Voters were split nearly evenly between the two parties on the U.S. economy and foreign policy, while Democrats had a tiny advantage on employment-related issues.
The Reuters/Ipsos poll, conducted throughout the United States, gathered responses from 1,029 adults, using a nationally representative sample.
Read More
(Headline) Ahead of State of Union, Biden's Approval Rating Falls to 41%
Ahead of President Joe Biden's first State of the Union address, the president's approval rating has decreased to 41%, according to a recent poll from Reuters/Ipsos. This marks a 5% decrease from the previous poll, conducted in January. This is lower than former president Donald Trump's approval rating at the same time in his presidency, which was 48%.
Biden's approval rating fell by 12%, from 53% to 41%, among Republicans. Among Independents, Biden's rating dropped even further, down to 28%. This is in stark contrast to the 86% of Democrats who view the new president favorably.
The poll's findings suggest dissatisfaction with Biden's immigration policies. Only 49% of respondents approve of how Biden is handling immigration, an 8% decrease from January. However, Biden has received high marks for his handling of the coronavirus pandemic. Seventy-one percent of respondents said they approve of the job the president is doing, slightly up from the 69% who responded positively in the January poll.
Biden's State of the Union address, scheduled for April 28th, is perfectly timed to ensure the president reaches the American people as his approval ratings have fallen. As the president prepares to lay out his policy agenda for the future of the country, it is likely that his speech will have a major impact on his current ratings.