2/2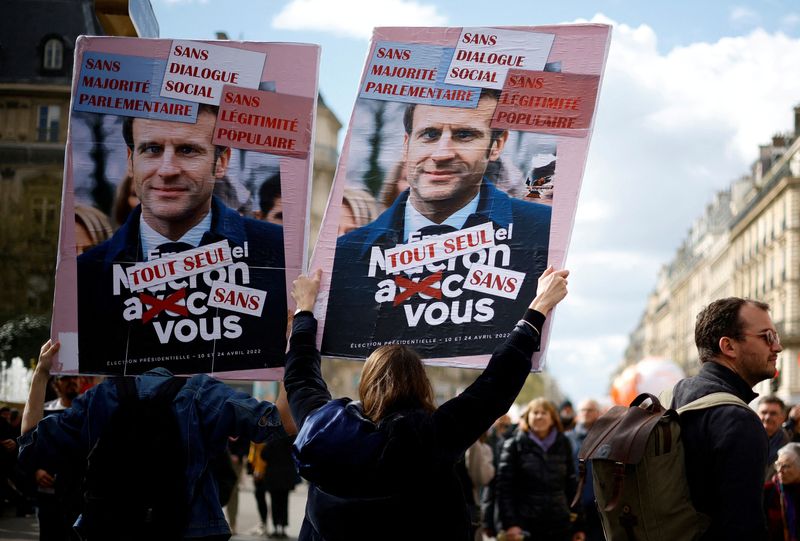 © Reuters. Protesters hold placards depicting French President Emmanuel Macron during a demonstration as part of the 12th day of nationwide strikes and protests against French government's pension reform, in Paris, France, April 13, 2023. REUTERS/Sarah Meyssonnier

By Michel Rose and Elizabeth Pineau
PARIS (Reuters) – Hours before France's top judges breathed new life into his widely denounced plans to make people work longer for their state pensions, President Emmanuel Macron was his usual defiant self.
"Never give up, that's my motto," he said, as he visited Notre-Dame on the anniversary of the fire that almost consigned the country's most celebrated cathedral to history.
Macron's ratings are in tatters and most of France loathes his pension overhaul, but the constitutional court on Friday ruled that the legislation to raise the retirement age by two years to 64 was in line with the French Republic's founding charter.
That verdict clears the way for the 45-year-old president to enact the law, offering him a political lifeline he aims to use to pursue a broader reform agenda after a tumultuous few months marred by strikes, protests and violence.
Macron's challenge will lie in soothing widespread anger not only at his pension overhaul but also at a perceived disdain for democratic institutions after, lacking a majority in parliament, he rammed the pension bill through without a final vote.
One government source familiar with the executive's thinking said the president had set his course: measures to improve daily lives, including health and education provision, and a "full-employment law" designed to accelerate a drop in unemployment to 5%.
Macron must also "show goodwill," said Bruno Cautres, a political analyst with Sciences-Po university.
In that vein, he invited trade unions to the Elysee Palace for talks next Tuesday, a presidency official said. Union leaders rejected the offer, however, and said they would keep up their fight.
Helping Macron's cause, turnout in nationwide protests has fallen in recent weeks. "Even in France, strikes don't last forever," a government official said.
TACKLING 'INJUSTICE'
Macron said in an interview in March that the pension protests showed the French were crying out for more social justice, and hinted at how he plans to deliver that.
"What did this anger show? A feeling of injustice. People say: it's always the same ones who work and who have to make efforts," he said in the interview with TF1 and France 2.
He criticised the "cynicism" of companies that use government money but channel their profits into share buybacks and pledged to make them spend more of that money on staff instead.
He also reiterated a campaign promise to make people on income support work 15 to 20 hours a week to maintain their welfare payments. Such a measure would likely be popular with right-wing voters but risk angering the left.
It would also need to find its way through parliament, where Macron has lost his working majority and debate has become increasingly fractious.
The conservative Les Republicains' (LR) party, which the government had hoped it would be able to count on for support, has emerged deeply divided from the pension reform saga.
"There are gaping wounds in the country," LR lawmaker Aurélien Pradié, who rebelled against the pro-pension reform party line on the reform, said on Twitter. "You'd have to be blind or irresponsible not to see the reality."
Four of Macron's own lawmakers this week announced they would no longer sit among the party's ranks, weakening his standing in parliament yet further.
Meanwhile, the relationship between Macron and his prime minister, Elisabeth Borne, has taken a battering. Borne was livid at leaked off-record attacks on unions that Macron made while in China and let that anger be known, sources have said.
So while the pension reform is on the statute books, Macron has much political capital still to regain.
"It's a short-term victory," Jean-Daniel Levy, a political analyst for Harris Interactive, said on RTL radio. "His governing style appears solitary, authoritarian and out of touch. That's the main challenge for the president today."
Read More
The reverberations of France's drawn-out battle over pension reform have been felt far and wide, and President Emmanuel Macron is no exception. After months of stormy protests and nationwide strikes, Macron is weakened, but unbowed by the experience.
The controversial pension reform was first proposed by Macron's government in 2019 and aimed to simplify the patchwork system of 42 separate retirement schemes into one unified system. While the government argued that the reform would make the system simpler and fairer, it was immediately met with opposition from trade unions and labour activists who feared that their incomes would be cut.
The ensuing battle between the government and the protesters proved to be one of the most polarized in modern French history. For months on end, millions of people across the country participated in strikes and demonstrations – some of the largest seen since 1968. As the conflict slumped on, the government would often change its stance, offering concessions to trade unions, while the unions demanded a complete withdrawal of the pension reform.
Ultimately, Macron's government persevered and the reform was eventually passed. However, the cost was high; not only did the strikes and protests do substantial damage to both the economy and the public opinion of Macron, but the reform itself was significantly revised due to the negotiations.
This situation has left President Macron weakened, both politically and personally. Although the reform was ultimately successful, Macron will long feel the consequences of this tumultuous struggle.
Yet, despite his weakened state, Macron is unbowed by the experience. On the contrary, he and his government have increased their efforts to reduce public debt and are ready to tackle a number of other reforms. Macron's resilience proves that, as contentious as the pension battle might have been, his commitment to his mandate is still as strong as ever.